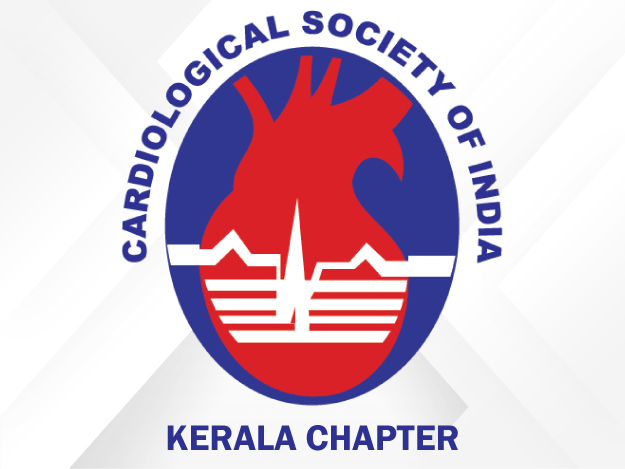 About CSI Kerala
Historical Review
The Cardiological Society of India, Kerala Chapter (CSIK) was initiated in the year 1967. The main objective of the Society is to improve the basic understanding and scientific knowledge and prevention and management of all types of cardiovascular diseases
The membership is open to Cardiologists. The Cardiological Society of India Kerala Chapter has more than 450 members currently. CSIK conducts periodic scientific meetings twice per year - a Summer Conference and an Annual Conference usually in the months of May and November respectively. The chapter also awards "Young Investigator Award" to the young cardiologists who present free papers in both these sessions.
CSIK hosted the Annual National CSI meeting in 2002, 2009 and 2016. These meetings were conducted excellently and set the standards for the subsequent meetings. It also hosted the midterm meet of national interventional council (NIC) in 2012 and 2014 which was acclaimed as one of the best meetings ever conducted. Live case transmissions were also done for the first time. Live cases were also transmitted from International centers like Denmark, Egypt, Indonesia, Italy, Netherlands, Russia and UK.
---
CCSIK also conducts preventive clinics every month in its office premises which are well attended. It also holds periodic CMEs in addition to the two annual meetings like the Preventive summit organized last year. Kerala chapter also holds the unique position of having its own scientific journal – Kerala Heart Journal. Financial assistance is provided to the 15 poor patients annually undergoing emergency cardiology lifesaving procedures in Government Hospitals OR Pvt Institutions
We had donated INR 40,00,000/- (forty lakhs) to Kerala Chief Minister's Distress relief Fund in August 2018 and also donated INR 1000000 (ten lakhs) for immediate medicine purchase during the flood and other financial assistants to the public.
The organizing committee of 68th annual conference has made a mobile app named "CSI Hearts App". A person who gets a chest discomfort can contact his nearest relative immediately. He can also directly contact the nearest heart hospital and if required, call an ambulance. All he need to do is to press the appropriate buttons in the App. App will also provide general information about heart attacks, risk scoring and BMI calculation, and in later versions facility to send ECG to the cardiologist.
In recognition of all the academic and organizational activities CSI Kerala Chapter was awarded the best branch award thrice. We hold the title currently, thanks to all our members.
The chapter members including associate members in the initial year were:
Members:
Dr. K.N. Pai - Trivandrum, President
Dr. C.K. Gopi - Trivandrum
Dr. M.R.S. Menon - Trivandrum
Dr. P.K.R. Warrier - Trivandrum
Dr. Kurian Mappilacherry - Kottiyam
Dr. R.K. Shenoy - Alleppey
Dr. T. Thomas - Alleppey
Dr. Sebastian Zachariah - Ernakulam
Dr. Joseph Kurian - Ernakulam
Dr. Mathew Zachariah - Trichur
Dr. P.M. Varkey - Trichur
Dr. Ravindran - Calicut
Dr. I.S. Menon - Varkala
Dr. D.V. Nair - Alleppey, Gen. Secretary
Dr. Mathew Roy - Trivandrum
Dr. K.P. Chandrasekharan - Trivandrum
Dr. Bhaskaran - Quilon
Dr. K.Y. Roy - Alleppey
Dr. K.G. Nair - Alleppey
Dr. M.C. Mathews - Ernakulam
Dr. Mukundan Menon - Ernakulam
Dr. Ramadevi Menon - Perumbavoor
Dr. V.J. Paul - Cochin
Dr. C.K. Ramachandran - Calicut
Dr. Balraj - Calicut
Associate Members :
Dr. K.N. Pillai - Alleppey
Dr. K. Kuruvilla - Alleppey
Dr. Jacob Thomas - Alleppey
Dr. Kesavan Nair - Palakkad